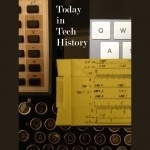 In 1959 – The first successful photocopier, the Xerox 914, was introduced at the Sherry-Netherland hotel in New York City. One of them caught fire. The demo that was carried live on television did not catch fire.
In 1985 – Steve Jobs spent his last day as an employee of Apple after submitting his resignation to the board.
In 1997 – After purchasing NeXT the previous December, bringing Steve Jobs back to the company, the Apple Board named Jobs as interim CEO, replacing Gil Amelio.
Subscribe to the podcast. Like Tech History? Get Tom Merritt's Chronology of Tech History at Merritt's Books site.