Tom Merritt
tommerritt at tommerritt.com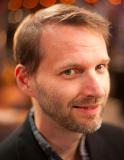 Audio/Video Talent
Web Content / Writer / Editor
Experienced talent and writer who turns out funny, thoughtful, journalistic and helpful content in the voice you need. Expert at podcasting and Web-TV-Radio integration. Exceptional at finding creative solutions with constrained resources. Strategic leader who takes the initiative and drives for success.
PROFESSIONAL EXPERIENCE
Sword and Laser L.L.C., San Francisco, CA 2011-present
Co-founder.
Co-Host and co-producer of Sword and Laser audio and video show and online community.
Success Stories
· Helped found company, set up payroll, accounting, and other business operations.
· Developed new video version of show for Geek and Sundry network.
· Created format of audio and video shows and wrote scripts.
· Booked top-name authors to be guests in person and on Skype.
This Week in Tech (TWiT LLC), Petaluma, CA 2010-2013
Host
Host of Tech News Today, the networks premiere daily news offering, featuring tech news, commentary and analysis with the top reporters and experts from around the world. Also host of TWiT special coverage of live events and other weekly shows.
Success Stories
·Launched Tech News Today in June 2010, immediately becoming the second most popular show on the network.
· Spearheaded development, production and hosting of three new TWiT shows to add diversity of coverage and added programming.
·Provided insightful coverage of live events like Apple product announcements, Google developer conferences and other breaking tech news items.
· Became networks go-to for on the scene reporting from conferences like the Consumer Electronics Show, NAB, Dragon*Con and Comic-Con
· Positioned as number two anchor behind founder, Leo Laporte, filling in on all shows during Laporte's holidays.
· Tech News Today recognised as top new podcast of 2010 by iTunes, People's Choice for Best technology podcast 2011 and IAWTV award for Best News Web Series 2012.
·Continual press appearances on radio and TV, including ABC News, Good Morning America, CBS Radio, and regular appearances Mondays on KFWB Los Angeles etc.

· Frequent speaker at conferences like IFA, CES, NAB and more.
Revision3, San Francisco, CA 2010-2011
Host
Host of Tom's Top 5, a weekly countdown of the hottest trends and topics of interest to geeks. From the most wanted gadgets, to the best movie robots, to the hottest geek musicians, the show tapped into the gestalt of the online world and delivered a top-rated compelling video countdown every week.
CNET.com, San Francisco, CA 2004-2010
Executive editor
Host of CNET TV, including regular features like Top 5 and Insider Secrets. Co-host of podcasts. Director of podcasting for CNET.com. Previously managed front door team, directing promotional priorities, headline writing, newsletters, and help content.
Success Stories
·Created several top-trafficked features for CNET TV
· Co-hosted and developed "Buzz Out Loud", a top-rated podcast
·Developed and wrote weekly column and podcast called "The Real Deal" on consumer tech and help.
· Increased traffic on CNET home page 25% in 2 quarters.
· Raised home page clickthrough by 20% within1 year.
· Hosted CNET product coverage at CES reviewing over 80 products both on stage and on the show floor.
· Re-launched newsletter 'AnchorDesk' newsletter raising traffic and subscriptions.
·Continual press appearances on radio and TV, including CNN, MSNBC, CNBC and local stations in LA, San Francisco, etc.

· Frequent speaker at conferences like Digital Hollywood and National Association of Hispanic Journalists.
· RSS feed of Tom's videos on CNET TV – http://www.cnettv.com/9706-1_53-0.xml?orderBy=6&keywords=%22tom%20merritt%22

TechTV, San Francisco, CA 1999-2004
Executive Web Producer
Managed team of 20, reporting to Executive Vice President of Programming. Cut costs and came in under $1M annual budget. Collaborated with freelancers to produce effective successful stories inexpensively.
Success Stories
· Increased traffic 60% over two years by implementing goal-oriented strategies and more efficient organization.
· Raised unique visitors to 2 million per month passing Wired News and rivaling Eonline.
· Successfully integrated Web and TV content across network by collaborating with TV producers to streamline communication and processes.
· Doubled Traffic of network's help sites over one year by implementing new integrated content model with TV producers and focusing promotional strategy.
· Developed the model for TV/Web integration by teaming with TV producers to implement more efficient editorial and promotional process.
· Inspired fresh and on-target content by conducting series of brainstorming offfsites that produced results.
· Increased writing quality 75% by implementing training and review program for writers and editors.
· Nailed network voice by conducting seminars, and implementing a series of workshops.
· Recruited. retained and developed key talent.
· Led initiatives to boost morale 100%.
Special Projects
· Co-hosted video called "How to Build a Website" with TechTV's Sumi Das.
· Produced TV Show "TechTV's Top 20 Gifts" November, 2002.
· Talent and producer for TV segments "The Web Lab", instructing viewers how to start their own websites.
· Wrote and edited sections of "Leo Laporte's Technology Almanac" 2003 and 2004
·Produced broad and successful trade show coverage at CES 2001.
TechTV Radio, San Francisco, CA 1999-2003
Radio Host
· Hosted morning news and talk show on arbitron rated number one 24 hour streaming talk radio station.
· Interviewed tech newsmakers
· Wrote produced and reported tech news and tech help segments.
· Hosted special promotional segments for TV network
Freelance Projects, Austin Texas 1993-1999
Writer
Producer
Tech Support
Wrote, edited and produced successful parody news website SuBBrilliant News (http://www.subbrilliant.com)
Wrote and acted in theatrical play called "Attack of the Mindless Alien Hosts from Outer Space"
Wrote and produced six episodes of access TV comedy show called "Subbrilliant Television"
DJ at pirate radio station "Free Radio Austin"
Wrote two novels, one called "Boiling Point" e-published.

Performed Frank Sinatra songs on-stage with musician Jennifer Cook

Maintained LAN for large bookstore

Wrote freelance articles
Other Relevant Experience 1986-1993
Writer
Radio Host/Program Director
Intern National Public Radio's Morning Edition (1993)

Anchor News/Election Coverage Channel 2 , Urbana, Illinois (1992)

Program director WPGU rock radio (1989-1991)

DJ WPGU rock radio (1988-1993)

Political reporter for Illini Journal (1990-1993)

DJ WGEL country music station (1986-1989)
EDUCATION
BS, Journalism, University of Illinois-Urbana-Champaign
Graduate Work in Communications, University of Texas-Austin