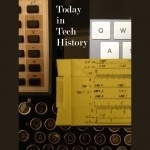 In 1979 – The Hitchhiker's Guide to the Galaxy was first published unleashing in book form, the world of Vogon Poetry, essential towel behaviour, and the BabelFish.
In 2001 – An era ended as the Polaroid Corporation filed for federal bankruptcy protection, killed off by 1-hour developing and the rise of digital cameras. Bank One bought most of the company and re-launched a company under the same name.
In 2003 – Adam Curry posted an AppleScript called RSS2iPod that took MP3s downloaded by RSS to a folder and automatically transferred them to a connected iPod. Christopher Lydon's Radio UserLand was used as the example.
In 2005 – After previously assuring us nobody wanted to watch videos on an iPod, Steve Jobs reversed course and Apple started making videos available on iTunes. ABC/Disney was the only TV network available at the time but you could get episodes of Lost and Desperate Housewives the day after they aired.
Like Tech History? Get the illustrated Year in Tech History at Merritt's Books site.