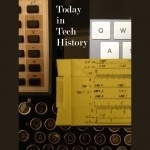 In 1950 – CBS's mechanical color system was the first to be licensed for broadcast by the FCC. Color TV would not become widespread until the late 1960s.
In 1957 – The Jodrell Bank observatory, with the world's largest radio telescope, designed by Sir Bernard Lovell, began operation. It's first job was to track the just-launched Sputnik satellite.
In 1958 – NASA launched the lunar probe Pioneer 1 the first of the Pioneer program. It didn't get very far, falling back to Earth and burning up in the atmosphere.
Like Tech History? Get the illustrated Year in Tech History at Merritt's Books site.