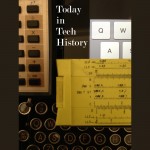 1960 – The JOSS (Johniac Open Shop System) conversational time-sharing service began on the Rand Corporation's Johnniac computer. Time sharing reduced the time programmers had to wait after turning in their punch cards.
http://www.computer.org/csdl/mags/co/2012/11/mco2012110012.html
1994 – University of North Carolina student radio station WXYC began what is considered the world's first Internet radio broadcast. DJ Michael Shoffner set it up. The simulcast continues today.
http://www.wxyc.org/about/simulcast
1996 – NASA launched the Mars global surveyor, humanity's return to Mars after a 10-year absence. The mission discovered much about the Geology of the planet.
http://mars.jpl.nasa.gov/programmissions/missions/past/globalsurveyor/
Read Tom's science fiction and other fiction books at Merritt's Books site.