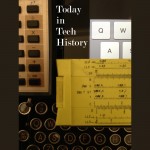 1877 – Thomas Edison announced his invention of the phonograph, a machine that could record and play sound.
http://www.history.com/this-day-in-history/edisons-first-great-invention
http://memory.loc.gov/ammem/edhtml/edcyldr.html
1905 – The Annalen Der Physik published Albert Einstein's paper, entitled "Does the Inertia of a Body Depend Upon Its Energy Content?" The paper revealed the relationship between energy and mass. You know the relationship as E = mc².
http://www.edn.com/electronics-blogs/edn-moments/4401906/Einstein-paper-outlines-E-mc2–November-21–1905
http://www.physik.uni-augsburg.de/annalen/history/einstein-papers/1905_18_639-641.pdf
1969 The first permanent ARPANET link was established between the Interface Message Processor or IMP at UCLA and the IMP at the Stanford Research Institute.
http://www.computerhistory.org/tdih/November/21/
Read Tom's science fiction and other fiction books at Merritt's Books site.