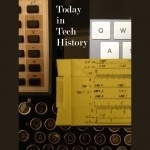 In 1946 – The US launched its second V-2 rocket at White Sands Proving Ground, which became the first successful launch of a large rocket on US soil. The rocket climbed straight up then pitched to the north reaching an altitude of 71 miles and impacted about 35 miles uprange.
In 1960 – The nuclear-powered USS Triton submarine, arrived in Groton, Connecticut, after completing the first completely submerged circumnavigation of Earth.
In 2011 – Google announced its Open Hardware Platform and the Google Music service which would eventually become Google Play Music.
Subscribe to the podcast. Like Tech History? Get Tom Merritt's Chronology of Tech History at Merritt's Books site.