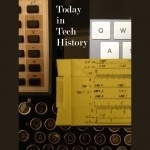 1954 – Computer science hero Alan Turing died. His death was ruled a suicide from eating an apple containing cyanide. Turing formulated the famous Turing test and broke code at Bletchley park during World War II.
http://plato.stanford.edu/entries/turing/
1975 – Sony introduced the Betamax video recorder for sale. It would lose the format war to VHS but find a niche in broadcast production.
http://www.vancouversun.com/sports/this+history+june+1975/6745667/story.html
1980 – The first US solar power plant was dedicated at the Natural Bridge National Monument, Utah.
http://books.google.com/books?id=jC1QAAAAYAAJ&q=natural+bridges+solar+june+7+1980&dq=natural+bridges+solar+june+7+1980&hl=en&sa=X&ei=9sGnUda-E8iaiALLk4DgBQ&ved=0CDcQ6AEwAA
Read Tom's science fiction and other fiction books at Merritt's Books site.