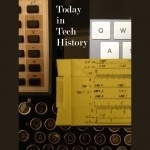 In 1967 – The very first Consumer Electronics Show opened in New York occupying the Americana and New York Hilton Hotels. It was devoted to home entertainment electronics and featured such advances as portable color TVs and video tape recorders.
In 1981 – After six years as a company, Microsoft incorporated in the state of Washington.
In 1998 – Microsoft released Windows 98 with less hype than Windows 95, but more consumer focus. It was the last version of Windows meant to be based on DOS however Windows ME, while meant to be based on the NT kernel, ended up being the last based on DOS.
Subscribe to the podcast. Like Tech History? Get Tom Merritt's Chronology of Tech History at Merritt's Books site.