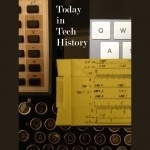 In 1856 – Nikola Tesla was born in Smiljan, Lika, Croatia, which was then part of the Austro-Hungarian Empire. His father was a Serbian Orthodox Priest and his mother an inventor of household appliances.
In 1962 – The world's first communication satellite, Telstar, was launched into orbit from Cape Canaveral on a Delta rocket.
In 1990 – The Electronic Frontier Foundation was formally founded, immediately coming to the aid of Steve Jackson Games, who's BBS had been seized by the Secret Service.
Subscribe to the podcast. Like Tech History? Get Tom Merritt's Chronology of Tech History at Merritt's Books site.