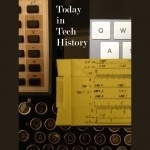 In 1908 – Lee de Forest, an engineer and scientist, broadcast a phonograph record show from the Eiffel Tower for an audience of less than 50 people. The show was also heard over 500 miles from the tower, becoming the first long-distance radio message transmission.
In 1964 – Jeff Bezos was born in Albuquerque, New Mexico. He would grow up to study computer science at Princeton, and set the standard for online shopping with his company, Amazon.com.
In 2005 – Deep Impact launched from Cape Canaveral on a Delta 2 rocket, headed to an impact with comet 9P/Tempel.
Subscribe to the podcast. Like Tech History? Get the illustrated Year in Tech History at Merritt's Books site.