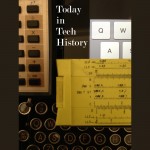 1900 – German physicist Max Planck published his theory that radiant energy is made up of particle-like components, known as "quantum." And quantum physics was born.
http://www.history.com/this-day-in-history/the-birth-of-quantum-theory
1972 – Eugene Cernan ended a 7 hour and 15 minute EVA, climbed back aboard the Apollo 17 Lunar Module and became the last person to walk on the moon.
http://news.bbc.co.uk/onthisday/hi/dates/stories/december/14/newsid_4104000/4104387.stm
1996 – John Tu and David Sun, the founders of Kingston Technology took $100 million from the sale of their privately held enterprise and gave it to employees, a spontaneous gesture to those who had helped make the memory-module company a market leader.
http://www.wired.com/thisdayintech/2009/12/1214kingston-technology-christmas-bonus/
Read Tom's science fiction and other fiction books at Merritt's Books site.