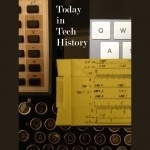 In 1944 – IBM officially presented the Mark I computer, also known as the IBM Automatic Sequence Controlled Calculator, or ASCC, to Harvard. The computer produced reliable results and ran continuously.
In 1955 – Tokyo Telecommunications Engineering released Japan's first commercially produced transistor radio, the TR-55, sold under the company's new name, Sony.
In 1966 – Jimmy Wales was born in Huntsville, Alabama. He grew up to co-found Wikipedia.
Subscribe to the podcast. Like Tech History? Get Tom Merritt's Chronology of Tech History at Merritt's Books site.