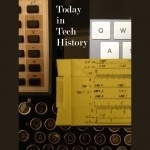 1970 – The Chang Zheng-1 rocket launched, carrying the first Chinese satellite, the Dong Fang Hong-1.
http://www.nasaspaceflight.com/2010/06/china-launch-shi-jian-12-satellite-research-mission/
1981 – At a meeting called "Apple II Forever", Apple introduced the portable Apple IIc. The machine came with 128 kilobytes of RAM and a 5 1/4 inch floppy disk drive.
http://apple2history.org/history/ah08/
1990 – The Space Shuttle Discovery launched with the Hubble Space Telescope on board. The following day, Hubble was released into space.
http://www.nasa.gov/mission_pages/hubble/story/the_story_2.html
2015 – The Apple Watch started shipping. It could be bought in some high-end fashion stores but Apple Stores had none in stock. Only online orders could be taken through Apple.
http://www.apple.com/pr/library/2015/03/09Apple-Watch-Available-in-Nine-Countries-on-April-24.html
2017 – Peggy Whitson broke the record for most cumulative time in space by a US astronaut, passing Jeff Williams record of 534 days, 2 hours and 48 minutes.
https://gizmodo.com/astronaut-peggy-whitson-just-smashed-another-record-1794590766
Read Tom's science fiction and other fiction books at Merritt's Books site.