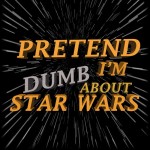 In this third episode, Yoda does stuff with hairy tarzan creatures, and Anakin makes an abrupt decision. PLUS there's a killer TWIST that makes episode 2 make a bit more sense.It's Tom Merritt's attempt to forget everything he knows about the Star Wars universe and embrace the story in episodic order.
Big thanks to Ryan for the graphic.
Get the music! Live from the Cantina at more from andrewallentrio.com.