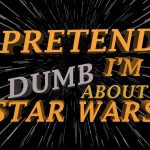 The second episode of "Pretend I'm Dumb About Star Wars" Wherein rocket guy fights for the clones and green guy proves himself worthy of remembering his name. It's Tom Merritt's attempt to forget everything he knows about the Star Wars universe and embrace the story in episodic order.
Big thanks to Ryan for the fancy graphic!
Get the music! Live from the Cantina at more from andrewallentrio.com.