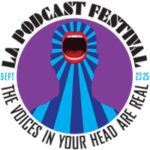 This coming weekend Sept. 23-25 is the Los Angeles Podcast Festival, AKA LA Podfest.
For the second year they have been kind enough to ask me along to moderate a panel. Content Evolution: The changing content of podcasts will feature Dave Anthony (The Dollop), Gus Sorola (Rooster Teeth) and Shawn Marek (Sideshow Network). 4 PM Sunday in a ROOM called Santa Monica not in the city.
The LA Podfest is in the Beverly Sofitel 8555 Beverly Blvd, Los Angeles, CA 90048.
See you there?