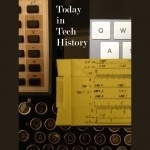 1962 – President John F. Kennedy opened the Seattle World's Fair by telephone from Palm Beach, Florida. He pressed a gold telegraph key which focused an antenna at Andover, Maine and a Navy radio telescope station in Maryland on a star to pick up a 10,000 year-old radio signal. That in turn set in motion various exhibits at the fair.
http://www.jfklibrary.org/Asset-Viewer/Archives/JFKPOF-037-040.aspx
1964 – Satellite Transit-5BN-3 failed to reach orbit after launch. It carried 2.1 pounds (0.95 kg) of radioactive plutonium from its SNAP RTG power source.
http://books.google.com/books?id=Afb6E7z0FVMC&pg=PA235&lpg=PA235&dq=Transit-5bn+satellite+fails&source=bl&ots=wSQnvHepKD&sig=TGcmeUG4cO2nDXf6i6B04dTFojk&hl=en&sa=X&ei=5et0T8DnM8axiQKA9synDg&ved=0CGQQ6AEwCQ#v=onepage&q=Transit-5bn%20satellite%20fails&f=false
1988 – Tandy Corp. held a press conference in New York to announce its plans to build IBM PS/2 clones.
http://www.computerhistory.org/tdih/April/21/
1989 – Nintendo released the original GameBoy in Japan. It sported the same controls as the NES and used black and gray pixels for the display.
http://thenextweb.com/gadgets/2014/04/21/nintendos-original-game-boy-now-25-years-old/
Read Tom's science fiction and other fiction books at Merritt's Books site.