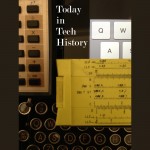 1947 – The aircraft-carrier Midway became the first US vessel from which a long-range rocket was launched. The rocket had a mishap though, and exploded at 5,000 feet.
http://books.google.com/books?id=Sr6JtOoWghkC&pg=PA153&lpg=PA153&dq=september+6+1947+midway+rocket&source=bl&ots=gYyQ94UlMg&sig=sRfLUXouBxEu86ZmkjyFTr4iGhs&hl=en&sa=X&ei=K-gWUPjzIYivqAG094DYDw&ved=0CHMQ6AEwCTgK#v=onepage&q=september%206%201947%20midway%20rocket&f=false
1954 – US President Eisenhower waved a ceremonial "neutron wand" over a neutron counter in Denver, Colorado, to signal a bulldozer in Shippingport, Pennsylvania to begin construction on the first commercial nuclear power plant. It was part of the "Atoms for Peace" program.
http://www.phmc.state.pa.us/portal/communities/pa-heritage/atoms-for-peace-pennsylvania.html
1997 – The USS Grace Murray Hopper, guided missile destroyer, was commissioned by the US Navy in San Francisco, named after the computer pioneer.
http://navysite.de/dd/ddg70.htm
Read Tom's science fiction and other fiction books at Merritt's Books site.