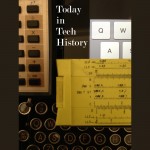 1977 – NASA launched Voyager 1 after a brief delay. Although it was launched 16 days after Voyager 2, it's faster flight path would take it past Jupiter first.
http://pds.jpl.nasa.gov/planets/welcome/voyager.htm
1980 – The last IBM 7030 mainframe computer, AKA STRETCH, was decommissioned at Brigham Young University.
http://www.computerhistory.org/tdih/September/5/
2007 – Apple introduced the iPod Touch, bringing multitouch functionality to its popular iPod line.
http://www.apple.com/pr/library/2007/09/05Apple-Unveils-iPod-touch.html
Read Tom's science fiction and other fiction books at Merritt's Books site.