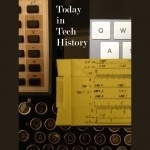 1998 – Microsoft's Internet Explorer passed Netscape Navigator as the Web browser with the greatest market share, according to a report from the International Data Corporation.
http://www.wired.com/thisdayintech/2009/09/0928ie-beats-netscape/
2008 – SpaceX launched the Falcon 1, the first ever private spacecraft to enter orbit.
http://www.spacex.com/press/2012/12/19/spacex-successfully-launches-falcon-1-orbit
2011 – Amazon shook up the tablet market, announcing the the Amazon Kindle Fire 7-inch tablet for $199.
http://money.cnn.com/2011/09/28/technology/amazon_tablet/index.htm
2015 – NASA announced definitive signs of liquid water on Mars had been found near the equator. Dr. Alfred S. McEwen and other scientists published a paper in the journal Nature Geoscience, describing the direct identification of water in the the form of hydration salts.
https://www.nasa.gov/press-release/nasa-confirms-evidence-that-liquid-water-flows-on-today-s-mars
Read Tom's science fiction and other fiction books at Merritt's Books site.