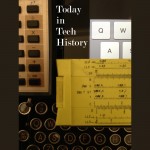 1979 – CompuServe began offering a consumer version of its dial-up online information service called MicroNET. The name would later be changed to CompuServe and offer public email among other online services.
http://www.zdnet.com/blog/btl/happy-30th-birthday-compuserve/24853
1993 – Broderbund Software released the game Myst, for the Macintosh computer. It became a record-setting bestseller and helped popularize CD-ROM drives.
http://www.giantbomb.com/myst/3030-3970/
1997 – Ultima Online launched, revolutionizing online gaming by supporting thousands of simultaneous players in a persistent shared world.
http://www.uo.com/article/Press-Around-Anniversary
2013 – Valve announced their new Steam OS, a free version of Linux built around the Steam video game service.
http://www.theverge.com/2013/9/23/4762370/steam-box-os
2014 – The shellshock vulnerability was made public. The way bash handled variables could allow malicious code to be run on computers running Linux and OS X. This meant routers, webcams and other connected devices were also vulnerable.
http://blog.erratasec.com/2014/09/bash-bug-as-big-as-heartbleed.html#.VCRaXildXA4
Read Tom's science fiction and other fiction books at Merritt's Books site.