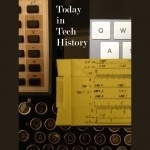 1822 – Jean-François Champollion, permanent secretary of the French Académie des Inscriptions, presented his Lettre a M. Dacier, describing his solution to the mystery of the Hieroglyphic inscriptions on the Rosetta Stone. A nifty bit of decryption.
http://www.umass.edu/wsp/philology/gallery/champollion.html
1991 – The first version of the Linux kernel (0.01) was posted to a Finnish FTP server in Helsinki. Originator Linus Torvalds wanted to call the OS FreaX, but the FTP admin didn't like the name and renamed it Linux.
http://www.h-online.com/open/features/The-history-of-Linux-1331088.html
2007 – AOL announced plans to refocus the company on advertising and relocate its corporate headquarters from Dulles, Virginia to New York City.
http://observer.com/2007/09/aol-to-move-corporate-headquarters-to-770-broadway/
Read Tom's science fiction and other fiction books at Merritt's Books site.