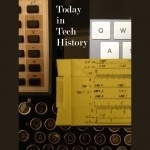 1947 – The Association for Computing Machinery was founded as the Eastern Association for Computing Machinery, during a meeting at Columbia University in New York. It developed into the world's largest organization of computer professionals.
http://www.acm.org/about/history
1947 – RCA released the 12AX7 vacuum tube for public sale. The miniature dual triode vacuum tube with high voltage gain became popular with tube amplifier enthusiasts and has been in continuous production since. The tube is also known as the ECC83 in the European Union.
https://www.effectrode.com/knowledge-base/the-12ax7-tube-the-cornerstone-of-guitar-tone/
2008 – Electronics retailer Best Buy acquired the Napster music service for $121 million, preventing the once dominating music-sharing service from going out of business.
http://bits.blogs.nytimes.com/2008/09/15/best-buy-bails-out-failing-napster/
2014 – Microsoft announced they would purchase Mojang, makers of the Minecraft universe. Mojang's founders, Notch, Carl, and Jakob, announced they would leave the company.
https://mojang.com/2014/09/yes-were-being-bought-by-microsoft/
Read Tom's science fiction and other fiction books at Merritt's Books site.