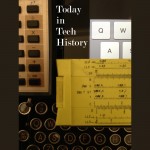 1959 – After 33.5 hours of flight, Luna 2 became the first human-made object to strike the moon.
http://www.bbc.co.uk/science/space/solarsystem/space_missions/luna_2
2000 – Microsoft released Windows ME. The ME stood for Millenium Edition but deserving or not, would eventually become code for a bad or unnecessary OS update.
http://news.cnet.com/2100-1040-245728.html
2001 – The Nintendo GameCube went on sale in Japan. It was the first Nintendo game console that did not use cartridges.
http://cube.gamespy.com/articles/500/500516p1.html
2015 – The Laser Interferometer Gravitational Wave Observatory, LIGO, detected gravitational waves of two merging black holes. It was the first direct observation of gravitational waves.
http://www.wired.com/2016/02/scientists-spot-the-gravity-waves-that-flex-the-universe/
Read Tom's science fiction and other fiction books at Merritt's Books site.