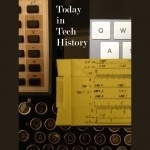 1983 – Osborne Computer declared bankruptcy in Oakland, California federal bankruptcy court, listing assets of $40 million, liabilities of $45 million, and 600 creditors. Two years earlier, Osborne had produced the first portable computer, the 24-pound Osborne I.
http://www.atarimagazines.com/creative/v10n3/24_Osborne_Comptuer_Corporat.php
1985 – Nintendo released Super Mario Brothers in Japan. It became the best selling video game for 20 years until it was surpassed by Wii Sports.
http://news.cnet.com/8301-13506_3-20016209-17.html
2000 – The public beta of Apple's Mac OS X, code named Kodiak, was released. Users had to pay $29.95 for the beta.
http://www.apple.com/pr/library/2000/09/13Apple-Releases-Mac-OS-X-Public-Beta.html
Read Tom's science fiction and other fiction books at Merritt's Books site.