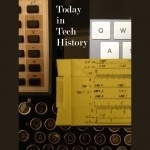 In 1977 – NASA launched Voyager 1 after a brief delay. Although it was launched 16 days after Voyager 2, it's faster flight path would take it past Jupiter first.
In 1980 – The last IBM 7030, AKA STRETCH, mainframe computer was decommissioned at Brigham Young University.
In 2007 – Apple introduced the iPod Touch, bringing the multitouch first introduced on the iPhone, to its popular iPod line.
Subscribe to the podcast. Like Tech History? Get Tom Merritt's Chronology of Tech History at Merritt's Books site.