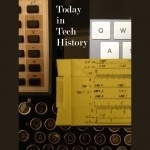 In 1998 – Microsoft's Internet Explorer passed Netscape Navigator as the Web browser with the greatest market share, according to a report from the International Data Corporation.
In 2008 – SpaceX launched the Falcon 1, the first ever private spacecraft to enter orbit.
In 2011 – Amazon shook up the tablet market, announcing the the Amazon Kindle Fire 7-inch tablet for $199.
Subscribe to the podcast. Like Tech History? Get Tom Merritt's Chronology of Tech History at Merritt's Books site.