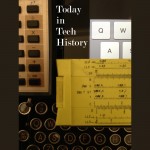 1860 – Telegraph lines opened between Los Angeles and San Francisco. This allowed gold miners to tell backers farther south that they still hadn't found any gold.
http://www.sfmuseum.org/hist/chron5.html
1921 – KDKA radio in Pittsburgh conducted the first live broadcast of a football game from Forbes Field. The University of Pittsburgh beat West Virginia University.
http://pittsburgh.cbslocal.com/2010/04/01/kdka-firsts/
2003 – To allow IT departments to prepare for critical updates, Microsoft conducted the first regularly scheduled Windows patch release. It became lovingly known as "Patch Tuesday".
http://www.zdnet.com/celebrating-10-years-of-patch-tuesday-7000021664/
Read Tom's science fiction and other fiction books at Merritt's Books site.