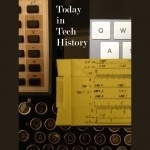 In 1893 – A US copyright was issued to William K. L. Dickson for a "publication" consisting of "Edison Kinetoscopic Records." It was the first motion picture copyright in North America. No torrents were uploaded until much later.
In 1914 – Edwin H. Armstrong received a US patent for a "Wireless Receiving System" which described his famous regenerative, or feedback, circuit. Armstrong would go on to pioneer FM radio.
In 1927 – Al Jolson appeared on a movie screen in New York City and said for all to hear "Wait a minute, wait a minute, you ain't heard nothin' yet." It was the first talkie.
In 2014 – HP announced it planned to split into two companies. Hewlett-Packard Enterprise would become an IT company with all of HP's enterprise level offerings. HP Inc. would take the existing logo and the personal systems and printing divisions.
Like Tech History? Get the illustrated Year in Tech History at Merritt's Books site.