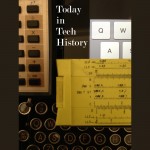 2000 – The Soyuz TM-31 launched, carrying Expedition 1 the first resident crew to the International Space Station, including Yuri Gidzenko, Sergei Krikalev and William Shepherd. The TM-31 was used as the crew's lifeboat while on the station.
http://spaceflight.nasa.gov/spacenews/reports/issreports/2000/iss00-43.html
2000 – Bertelsmann Music Group (BMG) and Napster agreed to develop a service for swapping and sharing music. The service never materialized.
http://cnnfn.cnn.com/2000/10/31/bizbuzz/napster/
2007 – Nintendo of Japan finally ended support for the repair of FamiCom game consoles, the Japanese name for NES, citing a shortage of parts. End of an 8-bit era.
http://www.engadget.com/2007/10/18/nintendo-of-japan-calling-it-quits-on-famicom-hardware-support/
Read Tom's science fiction and other fiction books at Merritt's Books site.