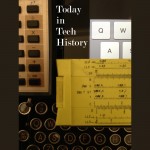 1942 – Germany conducted the first successful test of the V-2/A4 rocket, launched from Test Stand VII at Peenemünde. It traveled 118 miles.
http://www.history.com/this-day-in-history/germany-conducts-first-successful-v-2-rocket-test
1950 – John Bardeen, Walter Brattain, and William Shockley received US patents for circuits that would eventually be called the transistor.
https://www.google.com/patents/US2524035?dq=2,524,035&hl=en&sa=X&ei=_bwVVJGDOorioAS14IHwBg&ved=0CB8Q6AEwAA
1967 – Air Force Major William "Pete" Knight flew the rocket-powered X-15 aircraft to 4,520 mph, Mach 6.72. That is the fastest manned aircraft ever flown.
http://www.airspacemag.com/history-of-flight/x-15-walkaround-22512890/
1972 – The first USA/Japan Computer Conference was held in Tokyo.
http://books.google.com/books/about/First_USA_Japan_Computer_Conference_proc.html?id=eY4mAAAAMAAJ
1985 – STS-51J lifted off Sending the Space Shuttle Atlantis on its maiden flight. It was the fourth shuttle created and eventually became the last shuttle to fly in July 2011.
http://www.nasa.gov/mission_pages/shuttle/shuttlemissions/archives/sts-51J.html
Read Tom's science fiction and other fiction books at Merritt's Books site.