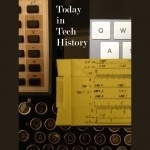 In 1906 – Alberto Santos-Dumont flew an airplane in the first heavier-than-air flight in Europe at Champs de Bagatelle, Paris, France. Some argue he should be credited with the first flight at all. But that's a long controversy.
In 1995 – A federal judge for the first time authorized a wiretap of a computer network, leading to hacking charges against a young Argentinean for breaking into sensitive US government networks.
In 2001 – Apple announced their new music player, the iPod. Apple used PortalPlayer's reference platform and hired Pixo to design and implement the user interface. The iPod became the first massively successful digital music player.
In 2012 – Apple announced the iPad Mini at 7.9 inches.
Like Tech History? Get the illustrated Year in Tech History at Merritt's Books site.