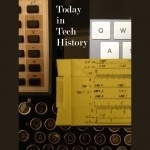 1922 – Six telecom companies joined to found the British Broadcasting Company in order to provide radio broadcasts in Britain. The private company was later replaced by the non-commercial British Broadcasting Corporation in 1927.
http://downloads.bbc.co.uk/historyofthebbc/1920s.pdf
1954 – Texas Instruments announced the Regency TR-1, the first transistor radio, produced jointly with the Regency Division of Industrial Development Engineering Associates in Indianapolis. TI executive Vice President Pat Haggerty hoped the product would show what transistors could do and spur demand.
http://www.ti.com/corp/docs/company/history/timeline/semicon/1950/docs/54regency.htm
1985 – Nintendo introduced the Nintendo Entertainment System aka the NES at FAO Schwarz in New York. A little game called Super Mario Brothers was introduced on the same day. The NES was the North American version of the Famicom sold in Japan. It was test-marketed in New York and eventually conquered the continent, becoming an 8-bit classic.
http://news.cnet.com/Nintendos-NES-game-console-turns-20/2100-1043_3-5900089.html
Read Tom's science fiction and other fiction books at Merritt's Books site.