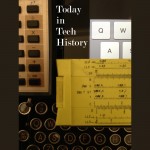 1979 – The Hitchhiker's Guide to the Galaxy was first published unleashing in book form, the world of Vogon Poetry, essential towel behaviour, and the BabelFish.
http://www.information-britain.co.uk/famdates.php?id=1237
2001 – An era ended as the Polaroid Corporation filed for federal bankruptcy protection, killed off by 1-hour developing and the rise of digital cameras. Bank One bought most of the company and re-launched a company under the same name.
http://money.cnn.com/2001/10/12/companies/polaroid/
2003 – Adam Curry posted an AppleScript called RSS2iPod that took MP3s downloaded by RSS to a folder and automatically transferred them to a connected iPod. Christopher Lydon's Radio UserLand was used as the example.
http://radio-weblogs.com/0001014/2003/10/12.html#a4604
2005 – After previously assuring us nobody wanted to watch videos on an iPod, Steve Jobs reversed course and Apple started making videos available on iTunes. ABC/Disney was the only TV network available at the time but you could get episodes of Lost and Desperate Housewives the day after they aired.
http://www.apple.com/pr/library/2005/10/12Apple-Announces-iTunes-6-With-2-000-Music-Videos-Pixar-Short-Films-Hit-TV-Shows.html
Read Tom's science fiction and other fiction books at Merritt's Books site.