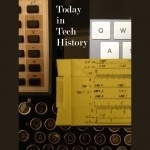 1879 – James Jacob Ritty patented the first cash register as "Ritty's Incorruptible Cashier". He was motivated to invent it by the no-good thieving employees at his saloon.
http://blogs.loc.gov/inside_adams/2010/11/necessity-is-the-mother-of-invention/
1939 – Packard Motor Co. exhibited the first air-conditioned automobile at the 40th Automobile Show in Chicago, Illinois.
https://www.yahoo.com/autos/bp/november-4-packard-offers-first-car-air-conditioner-132542726.html
1952 – Fresh off census duty, the UNIVAC computer projected General Dwight David Eisenhower would defeat Adlai Stevenson for President of the US. All the polls showed Stevenson had a clear advantage so CBS delayed using the projection fearing inaccuracy.
http://arstechnica.com/tech-policy/2011/09/univac-the-troubled-life-of-americas-first-computer/
Read Tom's science fiction and other fiction books at Merritt's Books site.