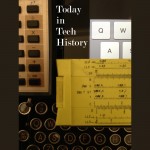 1777 – The Spanish founded California's first civilian settlement called Pueblo de San José de Guadalupe. It would become the future state's first capital and eventually the heart of Silicon Valley.
http://www.sanjoseca.gov/about.asp
1910 – The first US patent for a traffic signal system was issued to Ernest E. Sirrine. It switched an illuminated sign between the words "stop" and "proceed."
http://patft.uspto.gov/netacgi/nph-Parser?Sect1=PTO1&Sect2=HITOFF&d=PALL&p=1&u=%2Fnetahtml%2FPTO%2Fsrchnum.htm&r=1&f=G&l=50&s1=0976939.PN.&OS=PN/0976939&RS=PN/0976939
1972 – Nolan Bushnell installed a coin-operated arcade game at Andy Capp's tavern in Sunnyvale, California. It only played Allan Alcorn's Pong. Within four months there were 10,000 across the country.
http://www.gamasutra.com/view/feature/3900/the_history_of_pong_avoid_missing_.php?print=1
1974 – The January issue of Popular Electronics was published featuring the Altair 8800 microcomputer from Micro Instrumentation Telemetry Systems in Albuquerque, New Mexico on the cover. For $439 you got everything you needed to build a computer in one kit boasting 256 bytes of memory!
http://www.swtpc.com/mholley/PopularElectronics/Jan1975/PE_Jan1975.htm
Read Tom's science fiction and other fiction books at Merritt's Books site.