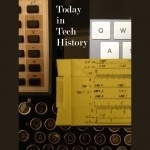 In 1932 – The FBI Scientific Crime Detection Laboratory (known then only as the Technical Crime Laboratory) officially opened in Washington DC. It's location was chosen because it had a sink, and its one employee, Agent Charles Appel had to borrow a microscope.
In 1969 – The Apollo 12 command module with its all-Navy crew splashed down safely in the Pacific Ocean, ending the second manned mission to the Moon. Credit goes to the USS Hornet for its second flawless recovery effort.
In 1998 – AOL announced it would purchase Netscape Communications, merging what were then two of the biggest names on the Internet.
In 2014 – Attackers calling themselves "Guardians Of Peace" hacked into Sony Pictures Entertainment's internal networks, stealing data, deleting data, and placing a message and an image of a red skeleton on computer desktops throughout the company.
Like Tech History? Get the illustrated Year in Tech History at Merritt's Books site.