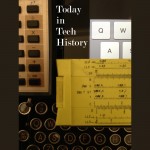 1889 – A "nickel-in-the-slot player" was installed at the Palais Royale Saloon in San Francisco, the first jukebox. Up to four people could put in a coin, put on earphones and listen to a record playing on an Edison Class M phonograph.
1963 – At 5:16 PM the BBC premiered its new family science fiction show, Doctor Who, with its first episode, "An Unearthly Child."
2004 – Blizzard launched World of Warcraft, destined to become the largest MMORPG ever made.
2015 – Blue Origin successfully launched its BE-3 rocket carrying an unoccupied New Shepard space capsule to a suborbital height of 100.5 km and landed the used rocket safely on the ground.
Read Tom's science fiction and other fiction books at Merritt's Books site.