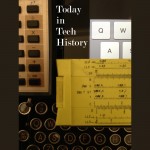 1815 – George Boole was born in Lincolnshire, England AND he became a mathematician who laid down the foundations for Boolean logic XOR Boolean Algebra. Search engine power users everywhere thank him.
1920 – KDKA in Pittsburgh started broadcasting as the first commercial radio station in the US. The first broadcast? Election results. Actual results, not projections.
1936 – BBC Television Service went on the air with the world's first regular "high definition" service. Back then high definition meant 200 lines not 1080. The channel became BBC One in 1964.
1988 – The Morris Worm began replicating across 6,000 computers causing slow systems and proving difficult to eradicate. 24-year-old Robert Tappan Morris Jr. at MIT had created the worm in order to see how many computers were hooked up to the Internet.
2015 – Hewlett-Packard split into two companies. HPE handled enterprise services and traded under the stock ticker HPE. HP Inc. kept the PC and printer business and the stock ticker HP.
Read Tom's science fiction and other fiction books at Merritt's Books site.