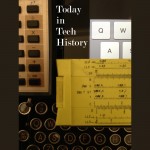 1872 – E.D. Barbour of Boston, Mass. received the first US patent for an adding machine capable of printing totals and subtotals. The so-called "calculating machine," proved impractical.
http://www.google.com/patents?id=MaxFAAAAEBAJ&printsec=abstract&zoom=4#v=onepage&q&f=false
1967 – Hong Kong TV, the first free over the air commercial television station in Hong Kong was established. Today it is known as TVB.
http://www.tvb.com/info/faq/e_corporation.html
1981 – Philippine President Ferdinand Marcos banned video games, citing such insidious examples as Space Invaders and Asteroids as a "destructive social enemy, the electrical bandit."
http://books.google.com/books?id=pq6-X1fTm2oC&pg=PA72&lpg=PA72&dq=november+19+1981+marcos+bans+videogames&source=bl&ots=oQwRvtTza1&sig=5IoZotCSlAzF0Ha10SJWGAT0gUo&hl=en#v=onepage&q=november%2019%201981%20marcos%20bans%20videogames&f=false
2006 – The Nintendo Wii launched in North America.
http://www.cnet.com/news/nintendo-wii-release-details-nov-19-250-with-a-game-included/
2007 – Amazon launched an e-reader called the Kindle that used an e-ink screen. The device had built-in free Internet connectivity and sold for $399.
http://www.cnet.com/news/amazon-debuts-kindle-e-book-reader/
Read Tom's science fiction and other fiction books at Merritt's Books site.