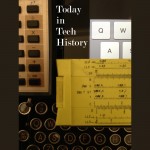 1870 – The United States Weather Bureau (now known as the National Weather Service) made its first actual weather report. 24 observers sent reports by telegram to Washington DC.
http://www.nws.noaa.gov/pa/history/evolution.php
1963 – The largest radio telescope ever constructed, the Arecibo observatory opened in Arecibo Puerto Rico. It would be used for many major discoveries including the first direct imaging of an asteroid.
https://www.nationalgeographic.org/thisday/nov1/worlds-largest-radio-telescope-opens/
1968 – The MPAA and 2 other industry organizations introduced the voluntary ratings system. G meant good for all ages, M meant mature audiences, R was restricted and X… well you know what X means. It would serve as a model for future voluntary systems like that used by the video game industry.
http://books.google.com/books?id=4WHgzaihSTgC&pg=PP104&lpg=PP104&dq=november+1+1968+voluntary+ratings+system&source=bl&ots=hulqwGH9et&sig=SxD_ymp776yKEiBtTnajoeSVsqE&hl=en&sa=X&ei=bnU8VN3fH9DbsASl-IDQBw&ved=0CDQQ6AEwAw#v=onepage&q=november%201%201968%20voluntary%20ratings%20system&f=false
Read Tom's science fiction and other fiction books at Merritt's Books site.