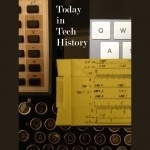 In 1851 – The first public message was sent on the submarine telegraph cable under the English Channel between Dover, England and Calais, France.
In 1982 – 15-year-old Scott Safran of Cherry Hill New Jersey set the world record score on Asteroids. His record stood for 27 years, the longest-running high score in videogame history.
1983 – The MIT TX-0, an experimental transistorized computer, was brought back to life for the last time at The Computer Museum in Marlboro, Massachusetts.
Subscribe to the podcast. Like Tech History? Get Tom Merritt's Chronology of Tech History at Merritt's Books site.