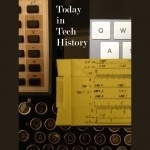 In 1946 – The US Army held a contest between an abacus used by Kiyoshi Matsuzaki from Japan's postal ministry and an electric calculator operated by Private Thomas Nathan Wood. The abacus won 4 to 1.
In 1970 – The Oregon Highway Divisions made an ill-advised attempt to destroy a dead whale by blowing it up with explosives. The results, documented by local news, eventually became Internet gold as the "exploding whale" video.
In 1990 – Tim Berners-Lee published a formal proposal for a hypertext project. The proposal referred to a "web of information nodes" and implementing "browsers" The project eventually became the World Wide Web.
Subscribe to the podcast. Like Tech History? Get Tom Merritt's Chronology of Tech History at Merritt's Books site.