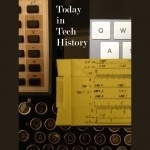 1896 – Samuel Pierpoint Langley's Aerodrome No. 5 made the first successful flight of an unpiloted, engine-driven, heavier-than-air craft of substantial size.
https://airandspace.si.edu/collection-objects/langley-aerodrome-number-5
1949 – The EDSAC, the first practical stored program computer, performed its first calculation. It operated at a speed of 714 operations per second.
http://www.cl.cam.ac.uk/~mr10/edsacposter.pdf
2002 – Apple's Steve Jobs previewed Mac OS X 10.2 Jaguar during his Worldwide Developers Conference keynote. It featured a handwriting technology dubbed Inkwell, an iChat instant messenger client, QuickTime 6 integration and more.
http://www.macworld.com/article/1004782/jaguar.html
2003 – Eve Online launched. The massively multiplayer space adventure differed from others in that its storylines were created mostly by the players of the game.
http://www.businesswire.com/news/home/20080508005957/en/EVE-Online-Celebrates-Years-Unprecedented-Achievements-Online
Read Tom's science fiction and other fiction books at Merritt's Books site.