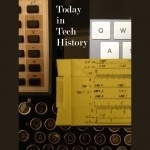 In 1896 – Samuel Pierpoint Langley's Aerodrome No. 5 made the first successful flight of an unpiloted, engine-driven, heavier-than-air craft of substantial size.
In 1949 – The EDSAC, the first practical stored program computer, performed its first calculation. It operated at a speed of 714 operations per second.
In 2002 – Apple's Steve Jobs previewed Mac OS X 10.2 Jaguar during his Worldwide Developers Conference keynote. It featured a handwriting technology dubbed Inkwell, an iChat instant messenger client, QuickTime 6 integration and more.
In 2003 – Eve Online launched. The massively multiplayer space adventure differed from others in that its storylines were created mostly by the players of the game.
Subscribe to the podcast. Like Tech History? Get the illustrated Year in Tech History at Merritt's Books site.