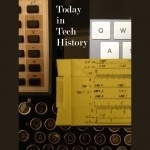 1961 – First NASA astronaut Alan Shepard piloted the Freedom 7 Mercury capsule on its 15-minute 28-second suborbital flight.
https://www.nasa.gov/topics/history/features/50_freedom7.html
1992 – Id Software released Wolfenstein 3-D. It wasn't the original first person shooter, but it launched the form into widespread popularity.
http://www.tomshardware.com/news/John-Carmack-Wolfenstein-3D-id-Software-Apogee-FPS,15578.html
1999 – Microsoft shipped Windows 98 SE to manufacturers. The new version included Internet Connection Sharing, Internet Explorer 5, Windows NetMeeting 3.
http://news.cnet.com/Windows-98-SE-released-to-PC-makers/2100-1040_3-225460.html
Read Tom's science fiction and other fiction books at Merritt's Books site.