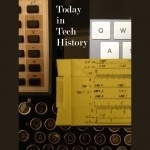 1995 – German electronics company Escom AG bought the rights to the name, patents and intellectual property of Commodore Electronics Ltd. for $10 million. Commodore had gone bankrupt the year before.
http://www.computerhistory.org/tdih/May/4/
2000 – The "I Love You" virus spread to 55 million computers around the world, hijacking hard drives and deleting, renaming, or damaging files. The damage reached billions of dollars.
http://www.cnn.com/2000/TECH/computing/05/04/iloveyou.01/
2004 – Apple announced that Steve Jobs would kick off that year's Worldwide Developers Conference by talking about Mac OS X 10.4 Tiger.
http://www.apple.com/pr/library/2004/05/04Steve-Jobs-to-Kick-Off-Apples-Worldwide-Developers-Conference-2004-with-Preview-of-Mac-OS-X-Tiger.html
Read Tom's science fiction and other fiction books at Merritt's Books site.