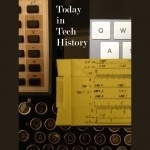 In 1919 – Sir Arthur Eddington led a team in Africa to observe the total eclipse, while another team observed it in Brazil, to measure how the sun bent star light during a solar eclipse. The results confirmed Einstein's theory of Relativity.
In 1935 – Workers poured the last concrete at the iconic Hoover Dam hydroelectric site. Four months later after the concrete was well and truly set, President Franklin Roosevelt dedicated the dam.
In 1992 – John Sculley introduced the Apple Newton at CES. The first one unveiled on stage had dead batteries and didn't work.
In 1999 – Space Shuttle Discovery completed the first docking with the International Space Station.
Like Tech History? Get the illustrated Year in Tech History at Merritt's Books site.