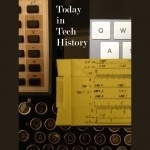 1825 – William Sturgeon exhibited the electromagnet in a practical form for the first time. The exhibition accompanied the reading of a paper, recorded in the Transactions of the Society of Arts for 1825 (Vol xliii, p.38).
http://www.archive.org/stream/lecturesonelectr00thomrich/lecturesonelectr00thomrich_djvu.txt
1908 – John Bardeen was born. He grew up to win the Nobel Prize twice, once for inventing the transistor, and once for figuring out superconductivity.
http://www.britannica.com/EBchecked/topic/53122/John-Bardeen
1995 – Sun Microsystems Inc. announced the programming language Java and the accompanying Web browser HotJava at the SunWorld '95 convention.
http://books.google.com/books?id=W6bomXWB-TYC&pg=PA14&lpg=PA14&dq=may+23+1995+SunWorld&source=bl&ots=4sKeTPyltP&sig=8Q61Ev3lBux67R2FXV7hWj828O8&hl=en&sa=X&ei=ul6UUbikPMGZiQLjuIGgCA&ved=0CHoQ6AEwCQ#v=onepage&q=may%2023%201995%20SunWorld&f=false
2002 – Netflix began selling its stock publicly on the NASDAQ. It rose from it's initial price, unusual for the time when tech company stocks were generally in poor shape.
http://www.wsj.com/articles/SB1022168821804716360
Read Tom's science fiction and other fiction books at Merritt's Books site.